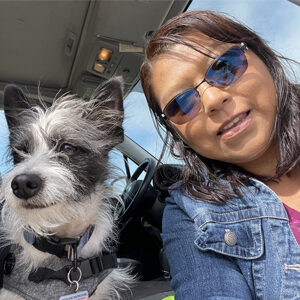 Guadalupe Beltran was born and raised in the city of Mexico and graduated from the College of Humanities Sciences (Colegio de Ciencias Humanidades). She immigrated to the United States in 1999 and started her career in Childhood Education a couple of years after. She worked for the Community Action Team's Head Start Program for 14 years before joining Consejo Hispano team, now Consejo Hispano. She assisted in the education of children from ages 3 to 5 and provided social services for the children's families.
Guadalupe believes that parents are the first and greatest teachers in a child's life and she is passionate about sharing all her knowledge. Mother of 3 children; 2 graduates and one currently enrolled in college. Guadalupe has the experience and is ready to work with the Latino community to help them gain the tools they need to support their children and for them to become academically successful.
In her free time, she likes to spend time with her family, her 2 adorable dogs, and sassy cat. Guadalupe has been an active community member for Consejo Hispano since 2015 and wants to give back to the community that she has been a part of for many years.