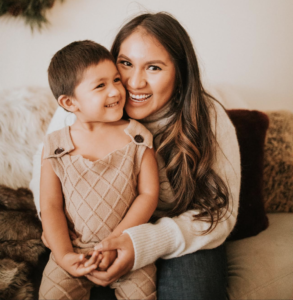 Kayla Slovak (she, her, ella) was born and raised in Seaside, Oregon, Kayla where from an early age both parents made it possible for Kayla and her siblings to travel to their homeland of Oaxaca, Mexico every year to keep in touch with their family and heritage. She later graduated Seaside High school and furthered her education at the local community college in Astoria. After completing her associates degree, she later went on to transfer to Portland State University.
From an early age Kayla was involved helping in the Latinx community in Clatsop County, either by helping out in fundraisers or participating in the Cinco De Mayo Celebration. Growing up in a small tight community made it easy for her to know everyone and offer help in any way, by translating for them or as small as giving someone a ride.
On her time off Kayla spends it with her husband and two-year-old boy. They love spending time outdoors whether it being clam digging or feeding their chickens. Kayla hopes to make a big difference in the Latinx community.