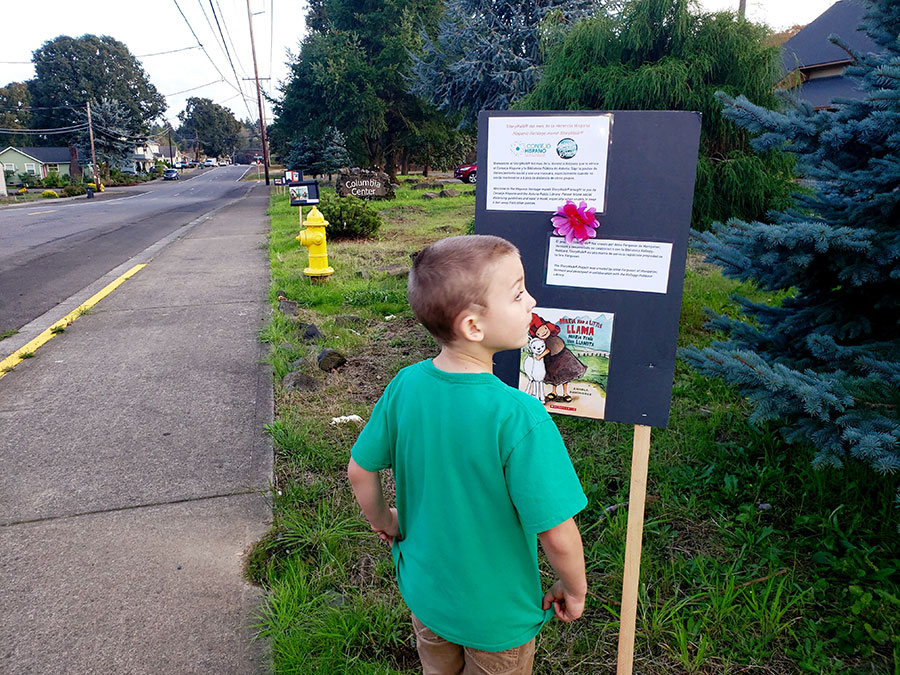 English
StoryWalk® is a fun and engaging way for children — and adults! — to enjoy reading and the outdoors at the same time. Laminated pages from a children's book are attached to wooden stakes, which are installed along an outdoor path. As you stroll down the trail, you're directed to the next page in the story. Consejo Hispano and the Astoria Public Library added some suggestions to dance, hop or clap from one page to another.
StoryWalks® have been installed in 50 states and 12 countries including, Germany, Canada, England, Bermuda, Russia, Malaysia, Pakistan and South Korea! They are such a fun addition to a walk in the park. We had 4 Spanish and English stories for Hispanic Heritage month and we are glad to have had such great participation. 
StoryWalk® was created by Anne Ferguson of Montpelier, VT and has developed with the help of Rachel Senechal, Kellogg-Hubbard Library.
Español
StoryWalk® es una forma divertida y atractiva para los niños y los adultos a disfrutar de la lectura y del aire libre al mismo tiempo. Las páginas laminadas de un libro infantil están unidas a estacas de madera, que se instalan a lo largo de un sendero al aire libre. Mientras caminas por el sendero, te dirigen a la siguiente página de la historia. Consejo Hispano y la Biblioteca Pública de Astoria añadieron algunas sugerencias para bailar, saltar o aplaudir de una página a otra.
StoryWalks® se han instalado en 50 estados y 12 países, incluyendo, Alemania, Canadá, Inglaterra, Bermudas, Rusia, Malasia, Pakistán y Corea del Sur! Son una adición divertida a un paseo por el parque. Tuvimos 4 historias en español e inglés para el mes de la Herencia Hispana y nos alegra haber tenido una gran participación.
StoryWalk® fue creado por Anne Ferguson de Montpelier, VT y se ha desarrollado con la ayuda de Rachel Senechal, Kellogg-Hubbard Library.
Storywalk Diapositivas/Slideshow